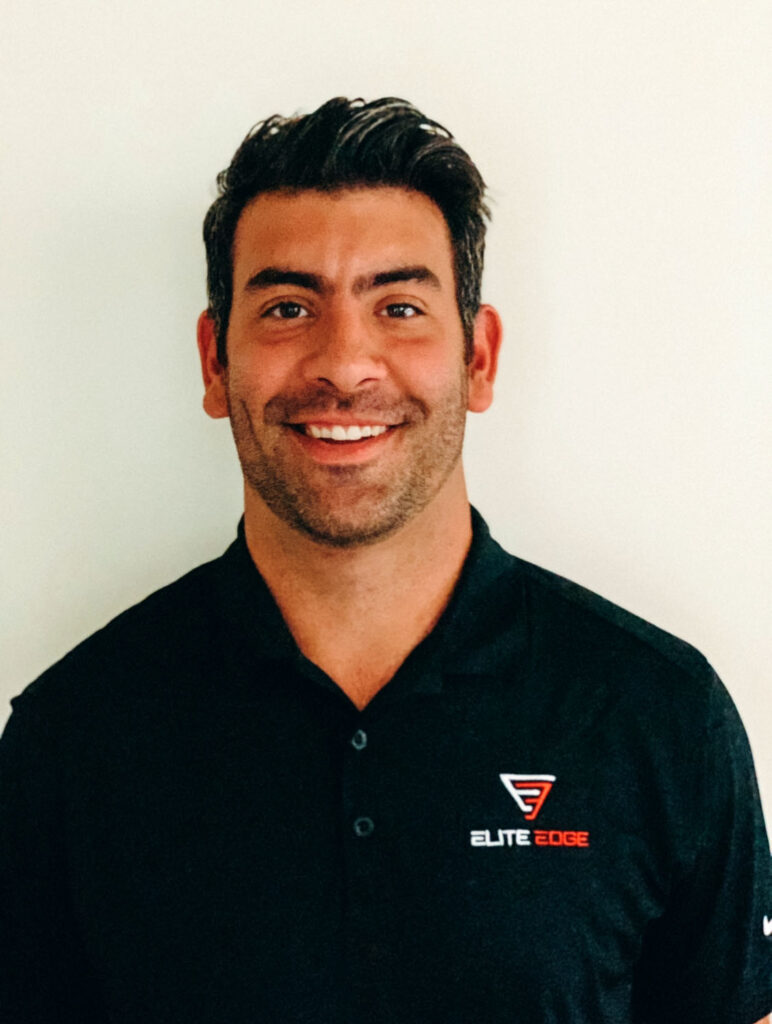 Chris McCarthy
Co-Owner & Hockey Trainer
chrismccarthy@elite3edge.com
610-247-1963
Click for Bio

Former professional hockey player Chris McCarthy has played over 350 career pro games in the American Hockey League and the East Coast Hockey league. He signed an NHL entry level contract with the NY Rangers right out of college and over the course of his professional career, has finished top three in the East Coast hockey League in scoring, being named an All-star, as well as 4th in all-time scoring for the Reading Royals.

Before turning Pro, Chris McCarthy played for the USA National Team Development program out of Ann Arbor, Michigan. It was there that he committed to playing college hockey at the University of Vermont. At UVM, Chris McCarthy captained his team during his Junior and Senior Seasons, and after graduating was honored enough to sign his two-year NHL entry level contract with the NY Rangers.

"After twenty plus years of success and knowledge in the game, I am thrilled to work with the youth and give them the tools that helped make me a successful player on and off the ice and beyond. I believe I can help players reach their personal goals through what I have learned over the course of my long career, and help them get to where they want to be." – Chris McCarthy

Junior: US National Development Program
College: University of Vermont (2009-2013)
Signed NHL entry level contract with NY Rangers (2014-16)
Professional: Hartford Wolfpack (AHL 2014-16)
Lehigh Valley Phantoms/ Reading Royals (AHL/ECHL 2016-18)
Hershey Bears (AHL, 2019-2020)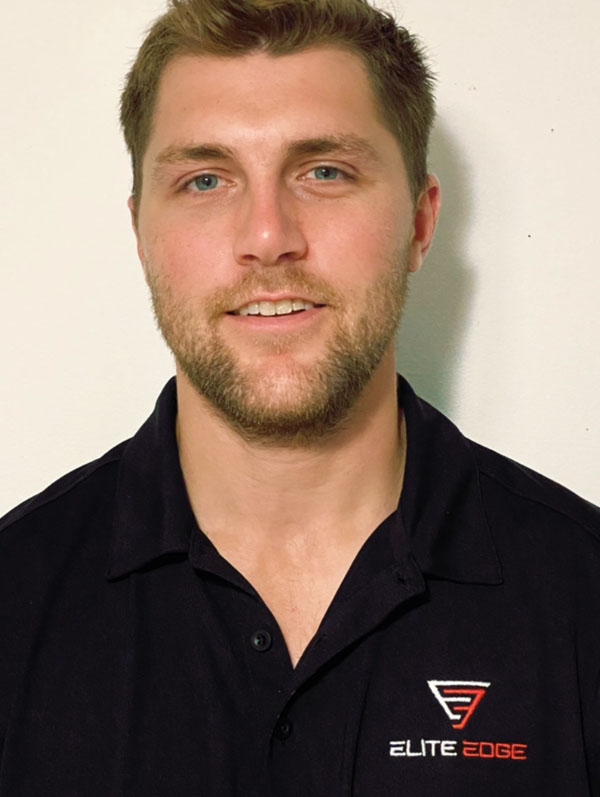 Larry Barretta Jr.
Co-Owner/Hockey trainer
larrybarretta@elite3edge.com
610-241-0062
Click for Bio

Larry is the Co-Owner and one of the Hockey Trainers at Elite Edge, in partnership with Chris McCarthy. He was also the Founder and Owner of Go Hard Hockey, a successful power skating and skill development program. Larry grew up in Exton, Pa, playing tier 1 Hockey in the area until his playing career ended at Penn State Berks ACHA Division 1 in 2014. Larry totaled 145 career points and was first team all-conference his senior year at PSU Berks. At the end of his collegiate career, he left as the all-time leading scorer and an ACHA All-Star. Larry served as team captain for both his Junior and Senior Seasons at PSU Berks.

After graduating with a business degree, he started his hockey school in 2016. Go Hard Hockey has grown to be a well-known hockey school in the greater Philadelphia area that offers lessons, clinics, camps and select team programs. Go Hard Hockey has continued to grow, and with that growth we were able to start Elite Edge. In 2017, Larry became the head coach of his former team, Penn State Berks. Larry is a level four USA hockey certified coach and now leads Elite Edge with passion and commitment.

"My greatest joy in the sport of Hockey is no longer playing the game: it is giving back to the youth. Being able to help young players solidify their craft in order to get to the next level is where I find my fulfillment. I look forward to the future of training that we have in place here at Elite Edge. I am confident we will help develop the games next great players." – Larry Barretta Jr.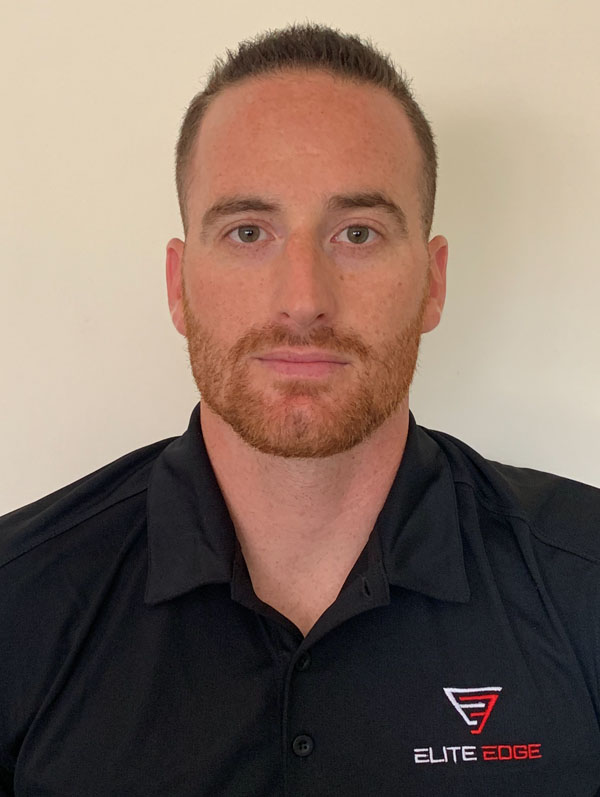 Mike Wagner, M.S., C.S.C.S
Sports Performance Consultant
Click for Bio

Mike is Certified Strength and Conditioning Specialist through the National Strength and Conditioning Association. Mike has been employed as a strength and conditioning coach for the Washington Capitals (NHL) and Hershey Bears Organizations (AHL) since 2016. He has a Bachelor's Degree in Exercise Science from Bloomsburg University and Master's Degree in Exercise Science with a concentration in Performance Enhancement and Injury Prevention from California University of Pennsylvania. Mike was also a college athlete playing football for 4 seasons at Bloomsburg University. He has been working with athletes in strength, speed, and power sports since 2009. He has worked with athletes ranging from all different age groups. This includes middle school, high school, college, professional, and Olympic athletes.

Bachelor of Science, Exercise Science- Bloomsburg University
Master of Science, Exercise Science, and Health Promotion concentrating in Performance Enhancement and Injury Prevention- California University of Pennsylvania
Certified Strength and Conditioning Specialist- National Strength and Conditioning Association
Performance Enhancement Specialist- National Academy of Sports Medicine
Fascial Stretch Therapist- Stretch to Win Institute
Level 1 Precision Nutrition Certified
Level 1 Reflexive Performance Reset Certified
Myokinematic Restoration- Postural Restoration Institute
Level 1 Coach- USA Track and Field
Certified Speed Specialist- National Association of Speed and Explosion
First Aid/CPR/AED Certified- American Red Cross
Past Experience
2013: Volunteer Assistant Strength and Conditioning Coach- University of Maryland Football
2014-2015: Head Strength and Conditioning Coach (Football and Field Hockey)- Millersville University
2015-2016: Assistant Strength and Conditioning Coach- Villanova University
2016- current: Washington Capitals and Hershey Bears organization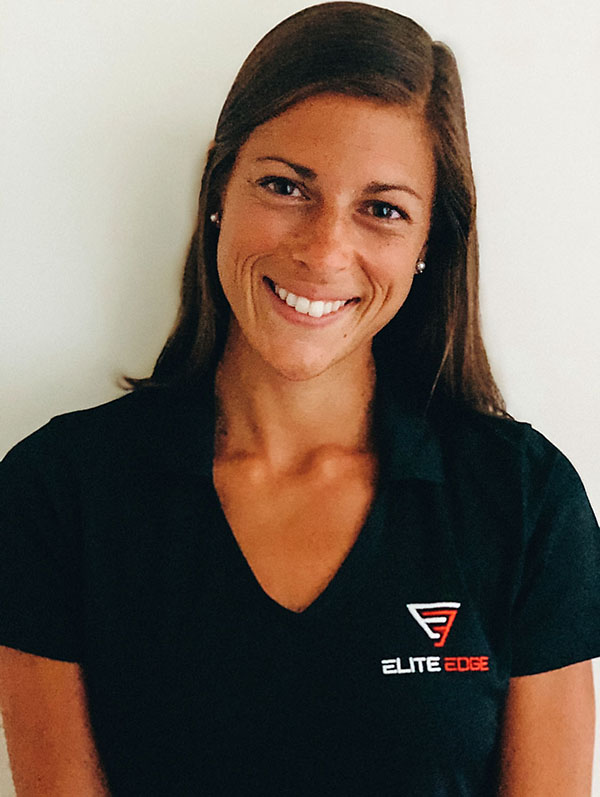 Haley McCarthy, LPC
Mental Health Therapist
haleymccarthy@elite3edge.com
585-704-6258
Click for Bio

Haley McCarthy is a Licensed Professional Counselor (LPC) with a certification in Nutritional Psychology. Haley has been practicing for the past 6 years working primarily with children, adolescents and their families. Haley uses a future focused, goal-oriented approach while working with her clients. Prior to becoming an LPC, Haley received her undergraduate degree from the University of Vermont where she played four years of Division I soccer while captaining her team. Haley continued her education at St. John Fisher College where she received her Master's in Mental Health Counseling. In addition to her mental health practice, Haley also has over 15 years of coaching experience in soccer.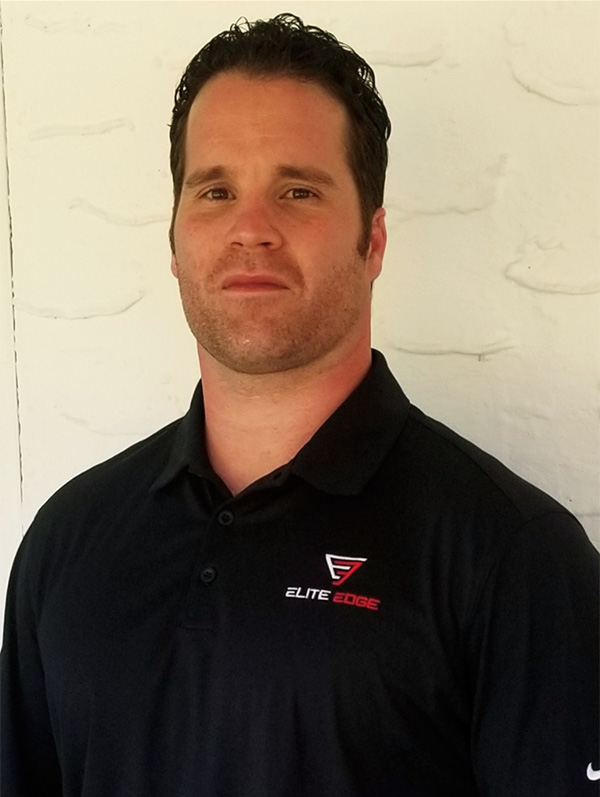 Bob Kofroth
Personal Trainer
bobkofroth@elite3edge.com
Click for Bio

Bob Kofroth has been learning and researching in the fields of kinesiology, injury prevention, and human performance for over 10 years. Bob is a Certified Personal Trainer by the National Academy of Sports Medicine and is the head instructor at World Martial Arts Academy.

At a young age Bob found his passion in sports through Fighting (boxing/kick boxing) and Football. Bob earned himself a partial scholarship to play Division II football, but after two years he realized his true passion was with boxing and kick boxing.

Spending his time focusing on boxing, Bob earned a spot on the Joe Hands Boxing Team in Philadelphia. Through this team, Bob traveled competitively around the US and was lucky enough to compete in the Irish Festival for Team Philadelphia competing against Team Belfast, Ireland. Bob then won the title of Middle Atlantic Boxing Champion at 197 lbs. Following his title win, Bob entered the Pennsylvania Golden Gloves, where he made it to the finals 2 years in a row at "The Arena."

During his time competing, Bob also had the opportunity to help Bernard Hopkins in his returning fight at the Liacouras Center. Through his recognition and expertise in the boxing community, Bob was offered to be an extra in the movie Creed 2. Bob then accepted a job offer as the head instructor at World Martial Arts Academy. This then lead the door to open for competing in the Martial Arts circuit. In 2018 Bob won the Light Heavy Weight NASKA World title. Competing in martial arts has allowed Bob to travel all around North and South America. During this time Bob also opened up a Martial Arts School with his father, starting a competition team.

Through Bob's extensive training/athletic career, he developed a passion for how amazing the human body can adapt and handle training loads. He is beyond excited to pass along his knowledge and help people of all levels train to reach their goals!